The summer is coming, it's time for you to pay attention to skin protection. Most women understand the need for a specific sunscreen or protective moisturizer that contains SPF for facial area & neck. But did you know you can also get sunburn through clothing that affect you body from UVs?
The development of UV-resistant clothing means that your clothes can now be an effective protection against UVs that may lead to skin cancer, or melanoma and premature skin aging. However, first you need to understand the potential danger from UV protection is and how it is called a good UV protection jacket.
What is UV protection jacket?
UV protection has long been no longer a strange concept for everyone, especially those who are always aware of the importance in protecting their skin. However, many people are still wondering what UV protection is? How is UV protection clothing different from normal clothing?
Good UV protection is the type of shirt or jacket that can prevent almost completely the radiation from sunlight to the skin like UVA and UVB rays. UV protection jacket is specially designed to prevent radiation from the sun thanks to many unique factors such as fabric, elasticity, weaving density, color, etc.
If SPF is an indicator to evaluate the effectiveness as well as sun protection of sunscreen, UPF will be a measure of UV protection on fabrics such as UV protection clothing, masks, gloves, UV resistant jacket, etc.
Compare SPF on sunscreen and UPF on UV protection cothing
Many people are shocked to learn that a standard T-shirt or hat, which can have a UPF rating as low as 5, is about the same as applying sunscreen with only SPF 5.
The American Society for Testing and Materials has developed standards for labeling apparel as UV-proof. Specific UPF ratings are as follows:
Good: clothes have UPF 15 to 24.
Very good: clothes have UPF from 25 to 39.
Excellent: clothes with UPF from 40 to 50.
Thus, we can see based on the UPF index, it is easy for us to see what is a good UV protection shirt. Currently, the highest UV index for existing fabrics is UPF 50+. This is equivalent to applying SPF 50+ sunscreen all day without having to apply it again. Clothing with UPF 50+ blocks over 98% of the UVA and UVB radiation from the sun.
What is a good UV jacket?
There are many different factors that influence the level of UV protection in clothing. To evaluate how new is called good UV protection, we need to note the following characteristics:
– Density of weaving: weaving or weaving as tightly as possible. If the sun can penetrate your clothing easily, it does not protect, no matter how many layers of clothing you wear.
– Fabrics: Not all fabrics can protect you from UV rays, so some fabrics are more effective than others in blocking UV radiation. Some composites such as acrylic, polyester, nylon and lycra or rayon tend to reflect more ultraviolet rays and therefore have a higher level of protection.
– Color: the darker the better. You may want to wear light colors in hot weather, but the UPF rating of dark colors is higher because they absorb more UV light, compared to the same lighter fabric.
– Thickness and weight: the thicker the better.
– Elasticity: the less elastic the better UV protection.
– Moisture: When the fabric is wet, it tends to reduce the fabric's UPF. For example, a thin white cotton T-shirt with an UPF of 5 will be able to decrease to an UPF of 3 when it is wet.
– Fabric condition: When clothing is used for a long time, the fabric is likely to deteriorate and this will also reduce the UPF.
UPF index of fabrics is very important, but so is the leather area it covers. Take care to cover all skin areas when being in the sun.
– Fit: It seems counterintuitive, but a little loose clothing will provide better protection than super tight clothing. If clothes are too tight, that tension can cause the fabric to stretch or tear, allowing more UV light to pass through the material. Don't forget to check the fit of your sunglasses – a pair of sunglasses that slide down your nose puts your eyes at risk of sun damage. Look for solid sunglasses with wide lenses covering your eyes, eyelids and as many surrounding areas as possible.
Suggested products
Women'S Sun Protection Jacket UV Protection Summer Outdoor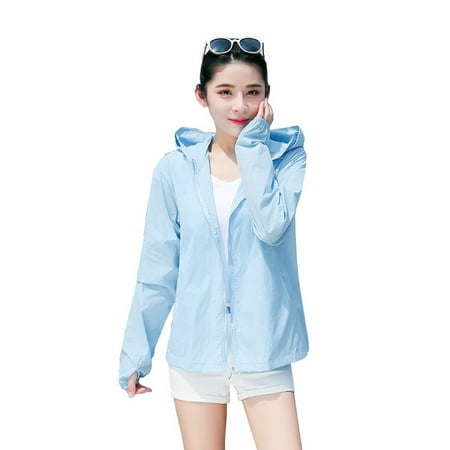 Now the sunlight is unsafe, and if you have to go out in summer, at noon; just wear this Jacket for UV Protection. What's the feature for this product? 1. Prevent UV skin burns
2. Super breathable function 3. Soft, comfortable, skin-friendly and stretch resistant 4. Effectively prevent ultraviolet rays, the sunscreen effect does play 5. Soft and comfortable. Skin friendly and stretch resistant. The jacket is lightweight & breathable
LANBAOSI Women's Lightweight Jacket UV Protect 
This jacket features with 100% Nylon. It's a good material for UV protection. The jacket is lightweight & quick dry. It's a perfect choice for outdoor activities such as university campus, outdoor trips such as hiking, camping, fishing, jungle exploring. The system of the Zipper is durable & easy to pull it. Just order it!
Conclusion
Above, we brought you a better understanding of what UV protection is and how it is called a good UV protection shirt. With this information, surely readers will be a lot easier to find and choose, give yourself a quality UV shirt and suits you best, right?
In addition, if you still do not know where to buy UV protective clothing quality, UV100 will be an option worth considering. UV100 is a brand that has existed and developed in the market for over 9 years, proud to be the unit that offers the best solutions to protect the skin from the harmful effects of UV rays.